Disclaimer:
I understand that not everyone is interested in adult work-at-home positions, but many are open to any and all ways to earn easy money online. If a job as an online adult entertainer is not something you're interested in, then please move on to my full list of other ways to
earn money online from home
. This post may be considered
NSFW
.
This post contains affiliate links.
Are you looking for ways to earn money online right now? Or are you looking for online jobs without investment? Either way, a job in the online adult entertainment business is one of the quickest and easiest ways to earn cash from home. The only investment that you really
need is time. Please note that while you can
potentially—
potentially being the key word here
—
earn money online today, the likelihood is quite slim. Your potential to earn income in the next several weeks, however, is higher.
Ways to Earn Money Online In The Adult Entertainment Industry
Have you ever wanted to earn money by selling nude photos? Ever thought about how you could make money texting? Perhaps you've even gone a step further and considered if there were ways to make money selling your underwear. Surprisingly, there
are
markets for every single option above.
Adult Webcam Modeling Jobs
If you're an attractive male or female (all shapes and sizes welcome), at least 18 years of age (with proof), and not camera shy, you may be able to
earn thousands of dollars per month as an adult web cam model
for Internet Modeling.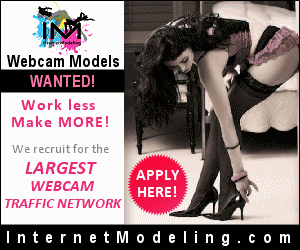 Adult web cam models perform live online for their audience.
You are not required to be nude
, although that must be disclosed to your clients prior to your video session. Of course, those willing to bare it all in private chat typically get paid more than those who do not.
Payment
Models are paid $0.80 per minute for regular sessions and $1.00 per minute for private sessions. Average earnings are between $500 and $1,000 per week for part time hours (20-25 hours a week), with others earning much more.
To maximize earning potential as a webcam model, Internet Modeling features you on dozens of adult websites. This allows you to reach out to a larger client base.
Training for Adult Webcam Models
If you're interested in learning the ins and outs of webcam modeling or want to start your own webcam modeling business

without

working under a company, check out Total Lip Service

adult webcam training

package. Total Lip Service offers packages for men and women looking to become webcam models. These packages cost $649.99 (you may also purchase à la carte) and include the following:
Phone Sex 101 Course ($149.99)
Webcam Modeling 101 Course ($199.99)
Niteflirt Navigation Course $60
Money Manifestation Video $60
1 on 1 Niche Consultant ($50)
You can get 10% off with my code:
FREELANCELADY
For more information on what all of this means and how it can help you achieve your dreams of becoming a high-paid adult entertainer, check out the Total Lip Service website.
So, what are the perks?
You choose your own hours--whether you work 10 hours a week or 40 is entirely up to you.
You never have to disclose your real name to clients, nor do you have to meet them in person.
If a client bothers you or gives off a bad vibe, you may block him/her.
Average earnings are between $500 and $1,000 per week for 20 to 25 hours.
Payments are made once a week.
Several payment methods are available, including direct deposit.
You can work in the comfort of your own home.
You can wear sexy clothes and lingerie.
Of course, there are numerous other perks, such as referral bonuses, creating and selling your own videos, and even choosing what to wear (or what not to wear).
What are the requirements?
You must be at least 18 years old and you must be able to provide proof.
You must have a PC, a high-speed internet connection, a quality webcam, and a big personality.
You must be a resident of the United States, or one of the countries accepted by the company.
For a complete list of requirements, please
fill out the adult web cam model application
and read the FAQs.
You may use me as your referral, if you'd like, and I will help you along the way, answering any questions you may have and help you gain exposure. Simply put "Emilia" when asked who you were referred by.
If you're ready to jump right in, fill out the application to
become an adult webcam model
and start earning! For more information, keep reading!
What do adult webcam models do?
As a webcam model, you get what you put in. Where most models tend to fail is in the area of "acting." You are not simply a pretty face and a beautiful body. You are an acress. Sometimes, as an actress, you must step outside of your comfort zone in terms of how you're "acting," and be a completely different person—and convincingly so.
How do adult webcam models make money?
What most adult webcam modeling companies don't tell you upfront is that you don't make money by simply chatting it up with customers. Webcam models make their money in private chat. Private chat is a one-on-one session (although in some cases, such as Premium Chat, more than one person can be in a "private chat") that the customers purchase. What you choose to do in private chat is up to you.
Usually, clients have an idea of what they want but
you are NOT obligated to do anything that makes you feel uncomfortable ALTHOUGH
(not to sound condescending) what you're unwilling to do in private chat, the next model will. You mustn't forget that you're paid by the minute.
While that may not sound like a difficult feat, you should be aware that convincing "watchers" and "lurkers" to buy a paid show is actually quite the challenge. According to statistics, only about 15% of the customers through Internet Modeling actually buy a paid show (this is actually much higher than other webcam modeling agencies). That means that a whopping 85% do not.
With that said, there
are
ways to increase the likelihood of selling a show and surprisingly, this is typically done by paying attention to those who do
not
engage with you by typing it up in the chat box. That's right. Most of the "non-chatters" are the individuals scoping out the room, trying to find out whether or not you're the type of model they want to see perform. Most of the time, these are the customers that spend the most money.
Oh, and in case you didn't know, nudity is only allowed in private chat, although a couple of flashes here and there are accepted in order to coerce customers to "buy your time."
How do webcam models get customers to buy private shows?
The first two weeks are always the hardest. Once you make it past those two weeks, you'll no longer be a "new face" and regulars will start to get to know you. Eventually, you'll be a well-known face. If you're really good at what you do, you may even become a favorite of some of the paying clients.
Getting customers to purchase time with you is all about your approach. Tease, flirt, show a little skin. The basic idea is to get them excited enough to purchase a paid show. The best way to increase your chances of a paid show are by maximizing the number of visitors in your free chats. Once your room is nearly full and customers are begging to see you naked, asking you to do certain sexually explicit things, asking questions about you, and so on, then you know you're on the right track.
Make them want you bad enough to be willing to get you away from all of the chaos of the free chat. Make them want you all to themselves.
The more you tease, the more you ignore requests to "show off your body" or "lift your shirt," the more likely customers are to want to see more.
Because of this, you should be mindful about what you wear. Wear something revealing—but not too revealing. Maybe something that shows your cleavage or lets your nipples peek through, or maybe something that shows off your belly button ring.
What should adult webcam models wear?
Training for Adult Webcam Models
For additional information about adult webcam modeling, check out my post on adult entertainment/sex industry jobs, and how to make the most of it. If you're looking for other ways to earn money online, check out these ways to earn easy money online.