Please do not read if you are easily offended. I understand that not everyone is interested in these types of virtual positions, but many people are. Here on Freelance Lady, I have a large audience, and I do my best to appeal to everyone. Again, please do not read this post if a job as an online adult entertainer is not something you are interested in.
* This post contains affiliate links.
If you're an attractive male or female (all shapes and sizes welcome), at least 18 years of age (with proof), and not camera shy, you may be able to
earn thousands of dollars per month as an adult web cam model
for Internet Modeling.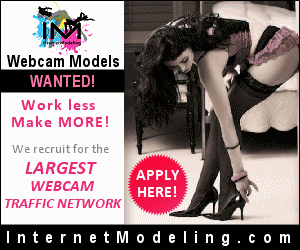 Adult web cam models perform live online for their audience. You are not required to be nude, although that must be disclosed to your clients prior to your video session. Of course, those willing to bare it all typically get paid more than those who do not.
Payment
Models are paid $0.80 per minute for regular sessions and $1.00 per minute for private sessions. Average earnings are between $500 and $1,000 per week for part time hours (20-25 hours a week), with others earning much more.
To maximize earning potential as a webcam model, Internet Modeling features you on dozens of adult websites. This allows you to reach out to a larger client base.
So, what are the perks?
- You choose your own hours--whether you work 10 hours a week or 40 is entirely up to you.
- You never have to disclose your real name to clients, nor do you have to meet them in person. If a client bothers you or gives off a bad vibe, you may block him/her.
- Average earnings are between $500 and $1,000 per week for 20 to 25 hours.
- You're paid once a week and there are numerous payment methods available, including direct deposit.
- You can work in the comfort of your own home.
Of course, there are numerous other perks, such as referral bonuses, creating and selling your own videos, and even choosing what to wear (or what not to wear).
What are the requirements?
- You must be at least 18 years old and you must be able to provide proof.
- You must have a PC, a high-speed internet connection, a quality webcam, and a personality that shines.
- You must be a resident of the United States, or one of the countries accepted by the company.
For a complete list of requirements, please
fill out the adult web cam model application
and read the FAQs.
If you have any questions regarding the adult webcam model position, please leave a comment or send me an e-mail at freelancelady [at] freelancelady [dot] com with "Adult Webcam Model Question" in the subject line.
You may use me as your referral, if you'd like, and I will help you along the way, answering any questions you may have and help you gain exposure. Simply put "Emilia" when asked who you were referred by.
If you're ready to jump right in, fill out the application to
become an adult webcam model
and start earning!